Heavy duty mixers are very handy, but most of the time, they are bulk and very heavy to transport. Good thing the Rev-A-Shelf Mixer Lift is here to ease the burden of lifting heavy mixers.
The Rev-A-Shelf Mixer Lift can be installed in your existing kitchen cabinet and makes taking out your mixer a breeze instead on hunching you back and giving it a lift which which sure will not spare you from back ache.
How it works, is you can simply pull out the base board that your mixer sits on and lock it in place. This will provide a temporary additional counter space where you can use your mixer. The device even uses a mechanical assist feature that allows for minimal amounts of effort when removing it from your cabinet. This makes it super easy to use even for the elderly or those who can't lift those heavy appliances.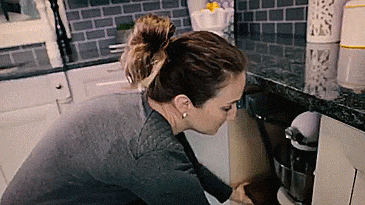 When you're done using your mixer of appliance, you can simply unlock the base, and it will slide smoothly down and into place perfectly into your cabinet using a soft-close feature that bears the brunt all of the weight of the appliance on it's own while closing. This way you can simply unlock the base board, and let it go, and it will elegantly store itself into your cabinet.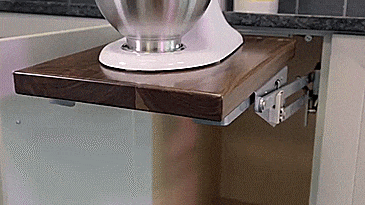 Not only great for storing heavy-duty mixers, the easy cabinet lift also allows you to store other large appliances like coffee makers, toasters, blenders, food processors, or really any large object that you don't want stored on your counter.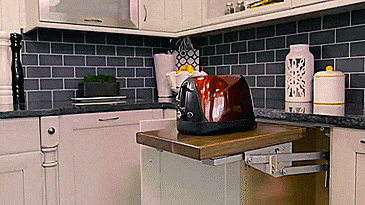 The Rev-a-Shelf mixer lift comes in two different versions, a cheaper version that doesn't feature the soft-close mechanism, and a premium version that does include the soft-close feature. Personally, I would definitely opt for the soft-close feature, as you wouldn't want to accidentally let go of the board, and have it crashing into your cabinet.